Dawn of the New Hour

'

Developer

Publisher

Director

Producer

Artist

Sullivan Miranda
Enterbrain (RPG Maker)

Writer

Composer

Series

Engine

RPG Maker VX Ace

Released

February 21st, 2016 (DEMO Version)
December 25th, 2016 (Aurum Demo)
TBA (Full Game)

Genre

Mode

Single player
Dawn of the New Hour is a turn-based role-playing game developed and published by Doctor Artist Digitals. It is planned to release in early 2018. This game is a result in collaboration among friends, although the majority of the game is designed solely by Sullivan Miranda. Many of the plotlines and character details are idealized by the real-life versions of some of the characters and companions. The game combines original characters and settings with characters and settings from other genres of games and shows to bring about a completely free and non-profit creative game.
The story follows a young artist, Sullivan, on a quest to seal the tears left behind by universes colliding with one another. With the help of Victoria, Blake, and a plethora of other characters, Sullivan aids in solving the problems of the citizens in different towns and worlds while slowly decrypting the mystery behind each universe suddenly coming into realization.
A demo, titled "Dawn of the New Hour - DEMO Version", was released for PC on February 21st, 2016 on Gamejolt and RPG Maker Forums, then another demo titled "Aurum Demo" was released on Christmas Day of 2016. So far, both demos are met with positive feedback.
Gameplay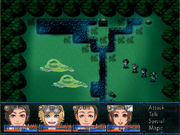 Dawn of the New Hour's combat system is heavily based on classic RPG games such as Final Fantasy. The system is made up of a turn-based attacks, although this could possibly be changed with a later release. The party consists of four members, which usually involves Sullivan, two other characters, and one guest character. Each character can be controlled by the player in a side-battle viewpoint; however, some guest characters are computer-controlled. Blake and Victoria are the usual characters to comprise the party in most cases, but the guest character can change by itself in certain worlds or points in the story.
Like traditional RPG games, Dawn of the New Hour features a level-up system. This determines each character's development. With each defeated enemy, whether it be a Nightmare or a boss, the player will gain experience points. With enough experience points met, the level of the character receiving the experience points will level up. This will give the chance for certain statistics of that player to increase, such as maximum hit points (HP), strength (STR), defense (DEF), and so on. They also receive new abilities to use in or out of battle as well. Each character will have their strengths and weaknesses too. For example, Victoria has lower defence than the rest of the party, but has a huge boost in evasive stats and luck. The player can also increase these stats outside of battle by either using stat-boosting items such as Luck Up, or they'll need to encountered a "Level Up Chest", which allows the player a boost in level by 1+. 
Plot
Setting
The game is not one universe, but rather multiple universes clashing together, making travel between each one possible. Each "world" has visual differences between each other, as well as different characters and enemies. There are numerous worlds, however a limit to these worlds has not yet been placed. In the DEMO Version, the player has access to three worlds: New Woodbury/Otnemarcas, The Islands, and an unnamed world accessible only by an opened portal.
Characters
Most of the characters within Dawn of the New Hour are original, many of which are designed either in the image of their real-life inspiration by Sullivan Miranda or by real-life Victoria. The primary protagonist is Sullivan, a young adult who has been chosen by The Doctor to protect True Earth. The game also features Sullivan's friends from this world, Victoria and Blake. The three travel together for most of the game, although other characters during different quests and worlds can enter as a guest. The main antagonist is the Hooded Man, who has come from another universe in search of power and wisdom, utilizing the Nightmares while doing so. Nightmares, creatures born from bad dreams, serve as most of the enemies encountered in the game, and come in a variety of shapes and sizes.
Other characters/character references who are not original are based on characters from game and television universes. Doctor Who and Kingdom Hearts both hold a tight inspiration in the game, and thus have textual references or even item references. Most of these otherworld characters are just to make cameos and hold almost no plot-related purposes.
Story
(Not yet added)
Development
The initial idea of Dawn of the New Hour was first thought up between Sullivan Miranda, real-life Victoria and real-life Blake. As three cosplayers and video gamers, they sprouted ideas together about the characters that they portrayed during conventions. Most of these ideas never made it very far, but Victoria, Blake and Sullivan were inspired to work on something a project. Blake started piecing together a L.A.R.P group for post-apocalyptic roleplay. Victoria started working on a video game designed around the idea that cosplaying was one of the most important aspects in the world. Miranda, however, decided to experiment with the ideas of, as he put it, "turning reality into a story that could be explored, with a twist of fantasy and sci-fi, rolled up into an RPG."
As time went on, the three worked on separate projects, occasionally going back and forth with one another for help in another's works. Miranda and RL-Victoria both worked with RPG Maker VX Ace for their projects. Miranda became more and more inspired due to the passion of his friend's plans and works, and decided to move deeper into his own planning, story concepts, art concepts, and teaching himself how to properly use the VX Ace Engine.
On August 14th 2014, Miranda revealed a screen capture of a game title menu, which ultimately publically announced the project. The new idea was met by friends with high approval, which further motivated Miranda to work harder into the process of the game. However, school made it so the game was heavily time-constrained, which made progress postponing common in 2014 and early 2015. Miranda stated that he barely got three months in of work during this time.
On June 7th, 2015, Miranda announced the idea of a demo release of the game. During this month, an "extreme overhaul" of the game was underway, as Miranda redid many of the original location designs, added many new features to the project, and started working on the first demo. In August, he released the first demo on RPG Maker Forums. This was also when Miranda finally decided on the name for the game; before the release, Miranda was unsure of the official title, and instead kept a placeholder name for the time being.
In September of 2015, the game itself started to lean to a more noticeable progression rate than before. Menu changes, graphical upgrades, the deep development of plot and more advanced features were showing up. This continued into the beginning of 2016. Originally, another demo was planned to release for New Years, but was postponed until February due to bugs and unfixed errors. On February 21st, 2016, Miranda released the second demo, called DEMO Version to the public in a wider distribution rate, utilizing more websites than just Facebook and RPG Maker Forums. As of March 2016, Miranda claims to be working on an update to the DEMO Version, to fix some minor bugs and add new graphical features and update old ones. This update was extended heavily, and was then released as the Aurum Demo.
Audio
Music
(not fully updated)
The music in Dawn of the New Hour was originally a combination of personally-composed music as well as music that came with RPG Maker VX Ace (Enterbrain) as well as some free-release composers. With the new update to DEMO Version, however, only four musical pieces are not composed by Sullivan Miranda. For the future release of the Full Game, however, Miranda originally stated that he will only include music primarily composed by himself, but has since retracted the statement. His retraction came with a new statement:
For originality, I want to do as much of the soundtrack as possible, but I'd love to keep free-release composers included to spread their creativity to more people. Plus, collaboration pieces would be really cool.
Music composed by Miranda was made on MAGIX Music Maker 2014 and 2016, programs used to make music with the usage of several instruments.
Reception
(Not yet entered)
Versions
DEMO Version
As of February 21st, 2016, Doctor Artist Digitals released a demo of the game, titled "DEMO Version". This allowed players to access a small portion of the game in order to get a feel of the story, the characters, and the gameplay. The demo is limited to three worlds, and is reported to take about an hour to complete all of the scenes and gameplay.
Beginnings - DEMO Version 2
Beginnings is a rumored demo to be released sometime in the middle of 2016. There is little known about this demo. The gameplay would take place without Sullivan, and would introduce another character entirely. The idea behind this is to introduce plot points not mentioned in DEMO Version, including the origins of Nightmares as well as some more details into where the Hooded Man came from. It is unclear as to if Victoria or Blake would appear, although it is assumed that they would not, as Sullivan will not have any part of this demo.
It is possible that the post-credit scene in DEMO Version is an allusion to Beginnings. However, this scene could merely be a lead-up to the full version of the game.
On May 2nd, 2016, a status update on the Doctor Artist Facebook page stated:
"Dusk brings surprises. You don't expect them, these gifts. Life has odd ways of planning things...doesn't it?"
Later on that day, another status was posted:
"Just when you expect something to go as it was originally planned, so many things can come first to present itself. Is this the gift that is brought by dusk? Is this what comes before dawn?"
These two posts are speculated to hint towards another demo, or maybe even a prequel game. Either way, this'll take place before
Dawn of the New Hour
.
Aurum Demo
The Aurum Demo is the current demo out for public testing. It boasts the "current production" model of the full game. According to a statement made by the developer, this particular version "will show the finalized systems and gameplay equal to the full version." As such, the Aurum Demo has been released with updates to show off new and improved features, such as the battle scene, menus, icons, art, and more. All public feedback into the Aurum Demo feeds into the next update, and, in aspect, the Full Version's release when the time comes.
Since the multiple updates to the Aurum Demo, the public has seen extreme improvement in things like weapon sprites, a variation of skills, world dynamics, NPC reactions, and more. The updates have also seen some errors and issues as well, as seen with the "Cookie Update", which was simply an update to make the game stop crashing whenever someone consumed the Jumbo Cookie item.
The next update to release has been hinted at a whole new way to play the game. According to the developer through Twitter:
I'm introducing some new concepts in the next update, and I'm looking for big feedback. From the beginning of Aurum, you'll see what I mean. For most, such an introduction will be a change of pace. I'm quite interested in what you'll all do with it. Be ready for the next update.
Full Version
There is no news on when the Full Version of the game will be released. Miranda mentioned that he's "hoping to release the full game sometime in the end of 2016 or the beginning of 2017, but this could always change".
Sequels
There is no current plan for any sequel of the game. Miranda stated "honestly, I haven't thought that far ahead. Dawn of the New Hour isn't even complete yet. If New Hour is well-received when it is fully released, I will consider making a follow-up game."
Despite there not currently being a true plan for a second game, Miranda has entertained the idea of a game series based on a book series that he had started writing as a child.
Trivia
The original placeholder title for Dawn of the New Hour was "Doctor Artist: The Beginning". This was later for scrapped for the current title.

The old title was kept as an idea, and is planned to be reused in another demo called Beginnings - DEMO Version 2, although the release of this demo is on hiatus.

Being a fan of YouTubers, Miranda is including references to many YouTubers in the final game. Some of them will even be playable.
External Links